November 13th, 2013
P
salm 16
The Message (MSG)
A David Song
16 1-2 Keep me safe, O God,
I've run for dear life to you.
I say to God, "Be my Lord!"
Without you, nothing makes sense.
3 And these God-chosen lives all around—
what splendid friends they make!
4 Don't just go shopping for a god.
Gods are not for sale.
I swear I'll never treat god-names
like brand-names.
5-6 My choice is you, God, first and only.
And now I find I'm your choice!
You set me up with a house and yard.
And then you made me your heir!
7-8 The wise counsel God gives when I'm awake
is confirmed by my sleeping heart.
Day and night I'll stick with God;
I've got a good thing going and I'm not letting go.
9-10 I'm happy from the inside out,
and from the outside in, I'm firmly formed.
You canceled my ticket to hell—
that's not my destination!
11 Now you've got my feet on the life path,
all radiant from the shining of your face.
Ever since you took my hand,
I'm on the right way.
The Message's translation/paraphrase is always a little jarring, and I'm not sure I'm comfortable with it, but it's a nice wake up.
Here's a link to two other translations. I thought it interesting that the reference to the heart in verse 9 or 10, here shown as "inside out," in Hebrew translates specifically to the kidneys! I for one am always glad to have happy kidneys.
Ok, now the BSF (Bible Study Fellowship) treatment.
Read… who's here, how's God described?
David praises his Master
Warns against idol shopping
David praises the people who recognize God as first,
describes his happiness in God's care,
and speaks of immortality, or at least avoiding the pit, Sh'ol.
Reflect… What does the passage teach about God, about people, about me?
David's contentment can be a justification for theology promising material reward, which would be a misreading. David is obviously in a content spot in his life when he wrote this psalm, perhaps just after his annointing, or as he's winning battles.
David makes God heart present both in his conscious, daylight thoughts but also finds Him in dreams. David, a man, a king, not a god, is the chosen and beloved of God.
God's rewards may be material, may be joy, but they are real rewards.
Respond… Pray about applying the passage to your life.
Father, You know me well. You know what idols of "certainty" and "self will" I chase. Help me to be obedient, to quickly follow as you lead. Help me to keep fighting the battle of the bulge, and be disciplined in it. Let me quit futzing and worrying about the checking account. Keep me thankful. Make me obedient. Obedience, chastity and poverty… vows needful in following Christ. I pray in His name, amen.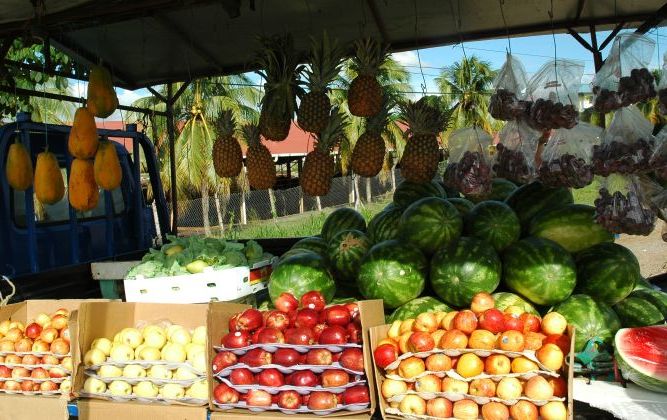 God's Bounty… Trini mobile fruit stand